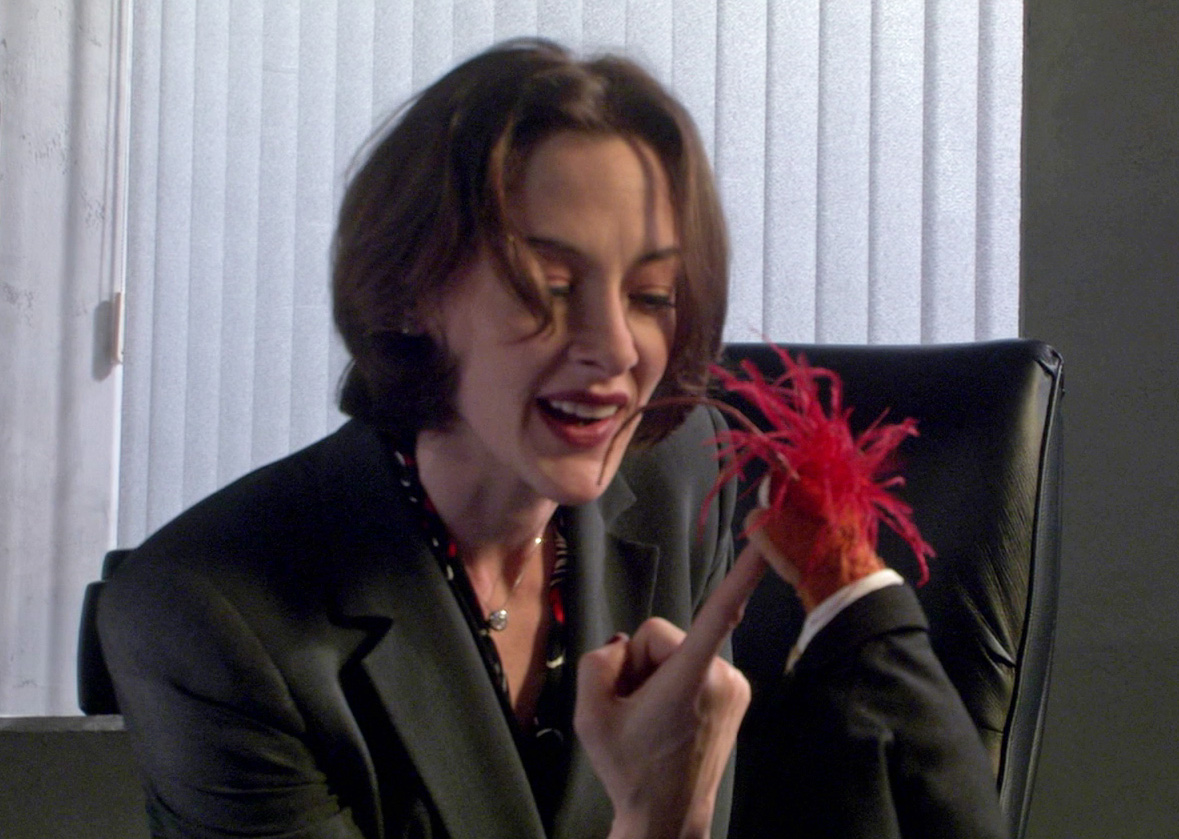 Rachel Bitterman (also known as "Miss Bitterman") is the greedy and bratty new owner of Bitterman Bank and Development, the bank she inherited from Mr. Bitterman. (The nature of their relationship is undisclosed). She is the main antagonist of the 2002 TV-movie It's a Very Merry Muppet Christmas Movie.
When first introduced in the movie, Rachel Bitterman comes off as a very sweet, even kind person. This changes, however, over the course of just a few sentences when her intentions to foreclose on the Muppet Theater are revealed. In this moment, we can see both her greed and deceptive nature coming through.
Evil plans
Pepe, intrigued with the idea of working for "monies instead of stardust", went to work for Miss Bitterman as an assistant so as to fulfill "Ricky Martin's dreams to salsa with Pepe... and she's hot!".
Having received the only copy of the contract between the Muppets and Bitterman Bank from her new employee, Pepe and Miss Bitterman began to formulate a plan that would allow her to take over the Muppet Theater and transform it into a "trendy new nightclub", which she calls "Club Dot". In the World in which Kermit was Never Born, we get a look at what Miss Bitterman's nightclub would look like if she succeeded in closing the Muppet Theater.
The plan was simple: She would change the contract so the money owed by the Muppets would be due at 6 P.M., Christmas Eve. However, the Muppets, unaware of this change, would think the money was not due until midnight of the same night, as it was originally agreed upon.
Even though the Muppets caught onto Miss Bitterman's scheme, certain events took place that made them lose the Muppet Theater to Miss Bitterman. They regained the theater when Miss Bitterman discovered the building was useless to her, for Pepe had redeemed himself by making the Muppet Theater a historical landmark. Embittered and defeated, Miss Bitterman storms out of the theater, whining and ranting against the Muppets like a spoiled child.
It is unknown what becomes of Miss Bitterman after the events of It's a Very Merry Muppet Christmas Movie.
Overview
It seems as though Miss Bitterman was just a spoiled brat (and probably still is). Be it playing with her dolls around her scale model of Club Dot, or throwing a fit (and shoving Bobo around) when things don't go her way at the end. Also, in a deleted scene, she complains about a Christmas present from one of her workers, even though it obviously cost a lot of money.
Love life
Miss Bitterman has no husband. She seems to use her good looks to get her own way with her workers. She flirts with Pepe, and he takes it seriously. But he then sees her with one of her workers, who like Pepe thinks she means what she intends.
Hobbies
Money.
Miss Bitterman also seems to share Miss Piggy's interest in karate. In fact, they seemed to be somewhat evenly matched. Their bout is soon interrupted by a now-injured Kermit. She also takes interest in playing with her dolls in her scale of Club Dot.
Trivia
Pepe's nicknames for Miss Bitterman include "Bitter-Buns" and "Sexy Banker Lady".
Bitterman Bank and Development's initials spell out "BBAD".