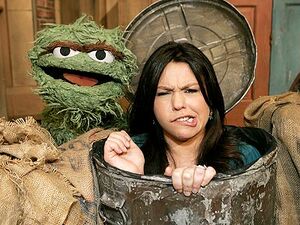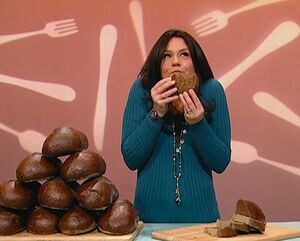 Rachael Ray (b. 1968) is a television personality who gained celebrity status for her many television series on The Food Network. Having hosted no less than four shows for the network, Ray also has her own magazine and, since 2006, a talk show executive produced by Oprah Winfrey.
She appeared on Sesame Street in Episode 4139 to present the Word of the Day: pumpernickel. She also briefly appears in "Get Up, Get Out."
She talked with Kermit and Miss Piggy in a highly edited segment from the red carpet of the 32nd Daytime Emmy Awards in 2005. Her entire dialogue is "Who?" (YouTube)
Notes
Sources
Ad blocker interference detected!
Wikia is a free-to-use site that makes money from advertising. We have a modified experience for viewers using ad blockers

Wikia is not accessible if you've made further modifications. Remove the custom ad blocker rule(s) and the page will load as expected.