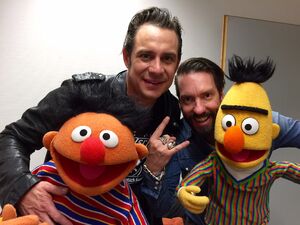 RTL-Spendenmarathon is an annual 24-hour telethon on German network RTL, benefiting multiple children's organizations around the world. As of November 21, 2015, the telethon has raised a total of 143 million Euros.
For the telethon's 20th anniversary edition on November 20, 2015, Ernie and Bert appeared on with singers The BossHoss, performing their own comedic version of the Dolly Parton song "Jolene."
External links
Ad blocker interference detected!
Wikia is a free-to-use site that makes money from advertising. We have a modified experience for viewers using ad blockers

Wikia is not accessible if you've made further modifications. Remove the custom ad blocker rule(s) and the page will load as expected.