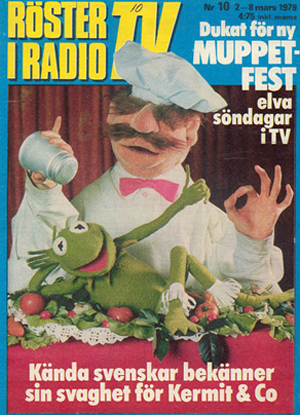 The Muppets were on the front cover of the Swedish weekly radio and TV guide, Röster I Radio TV in March of 1979. The issue had the Muppets in focus because the show was returning with eleven new episodes on Sveriges Television. Swedish celebrities confess their Muppet weaknesses in the magazine.
Röster I Radio TV was first published in 1934 as a radio guide. It was published by Sveriges Radio until 1994, when it was merged into Se & Hör along with the magazine Hänt i Veckan.

External Links
Ad blocker interference detected!
Wikia is a free-to-use site that makes money from advertising. We have a modified experience for viewers using ad blockers

Wikia is not accessible if you've made further modifications. Remove the custom ad blocker rule(s) and the page will load as expected.