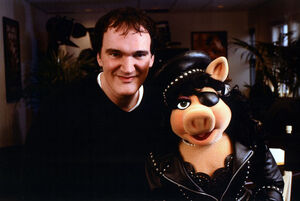 Quentin Tarantino (b. 1963) is an American film director. He made a cameo appearance as himself in The Muppets' Wizard of Oz.
Tarantino made an appearance on Late Night with Conan O'Brien in 2005, just prior to the initial airing of The Muppets' Wizard of Oz to promote various projects. A majority of the interview was spent talking about his experience with the Muppets and his love for the characters.
Several of his films have been parodied by the Muppets, including Pulp Fiction, Reservoir Dogs and Kill Bill.
The movie director in the Sesame English episode "Tingo the Superstar" is named after Tarantino.
External links
Ad blocker interference detected!
Wikia is a free-to-use site that makes money from advertising. We have a modified experience for viewers using ad blockers

Wikia is not accessible if you've made further modifications. Remove the custom ad blocker rule(s) and the page will load as expected.