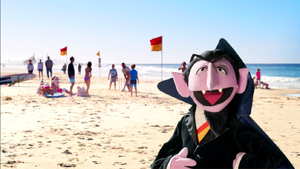 In 2016, Count von Count appeared in a promotional spot for Queensland Treasury's "Census Night" (held on August 9). He travels across Queensland, Australia, doing what he does best, then concludes, "Everybody counts on Census Night!"
For this spot, the Count was puppeteered by Eric Jacobson, with Matt Vogel looping his dialogue later.[1]
See also
Sources
External links
Ad blocker interference detected!
Wikia is a free-to-use site that makes money from advertising. We have a modified experience for viewers using ad blockers

Wikia is not accessible if you've made further modifications. Remove the custom ad blocker rule(s) and the page will load as expected.