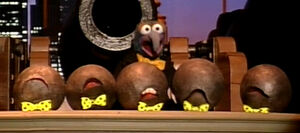 Pyotr Ilyich Tchaikovsky (1840-1893) was a Russian composer who wrote music during the Romantic era. He is considered one of the most well known composers in classical music, having written several concert works, symphonies, operas and ballets. Some of his popularity comes from the effective use of his music in other media including his "Nutcracker Suite" in Disney's Fantasia, the Sleeping Beauty ballet in Disney's animated feature, and "Marche Slave" in Looney Tunes cartoons.
Some of his most well known works have been used in a number of Muppet productions, including:
Ad blocker interference detected!
Wikia is a free-to-use site that makes money from advertising. We have a modified experience for viewers using ad blockers

Wikia is not accessible if you've made further modifications. Remove the custom ad blocker rule(s) and the page will load as expected.