Ad blocker interference detected!
Wikia is a free-to-use site that makes money from advertising. We have a modified experience for viewers using ad blockers

Wikia is not accessible if you've made further modifications. Remove the custom ad blocker rule(s) and the page will load as expected.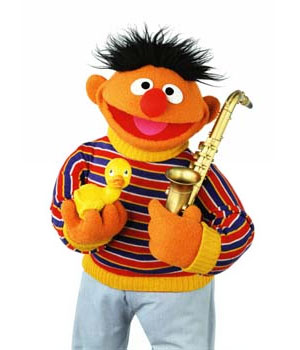 "Put Down the Duckie", performed by Hoots the Owl and Ernie, encourages one not to let possessions get in the way of other activities. Ernie wants to play the saxophone, but due to the presence of Rubber Duckie in his hand, he can only produce a squeak.[1]
Bob sang a portion of the song in a 1993 episode.
In a segment from the 1990s, Ellen DeGeneres listened to this song on a Walkman, explaining to Elmo how portable music players work. (EKA: Episode 3448) This segment occasionally led into the "Put Down the Duckie" sketch (starting with the music playing, cutting out the intro).
In German, the song is known as "Weg mit dem Entchen!" In a Play With Me Sesame insert, Ernie uses the song during a game of "Ernie Says" about being happy and sad.
Christopher Cerf and Bob McGrath sang the song at the Brooklyn Public Library on November 21, 2009.
Celebrity Version
During the season that this song premiered, every time a celebrity appeared on the show, the producers would tape a special verse to be sung by that celebrity, and these verses were then edited into the song for later re-airing.[2]
Celebrities included:
The closing credits for Sesame Street, Special also included a celebrity montage for this song, including alternate takes/ verses of the featured celebrities (including a verse from Jane Curtin, who appeared but didn't sing in the insert) and the celebrities who appeared in new footage in the special (some of these were later added to the insert). The credits were followed by a brief scene in which Hoots the Owl reveals to Ernie that he gets a funny sound whenever he wants to squeeze his Rubber Duckie, and Ernie offers a solution: "You've got to put down the saxophone if you want to squeak your duckie!"
Additional Changes
Aside from the added celebrities, a number of other alterations have occurred between the original and the celebrity-included versions.
Notes
Releases
Audio
Video (celebrity version)
Online
Publications
Specials
Trivia
The idea behind this song has been borrowed by the Institute for Health Realities research organization of Colorado, as the title for its lifelong health newsletter:
"
The Duckie represents our old habits—which have become habits because they're what make us comfortable. To move forward in life, we have to put down our Duckies -- or lay aside our old habits. Ernie learns it's the first step for him, and it is as well for the rest of us.
"
According to Norman Stiles:
"
I also came up with the idea for song "Put Down the Ducky" one night while eating dinner by myself at a restaurant. The phrase, "You've got to put down the ducky if you want to play the saxophone," came to mind after one vodka on the rocks. Chris Cerf and I wrote the whole lyric around a week later and then he wrote that great tune. The idea to include cuts of celebs came soon after it was recorded and shot. Any celebrity who came to do Sesame Street did their version. I got goose bumps when Ladysmith Black Mombassa [sic] did it."[5]
"
Sources
See also
Videos