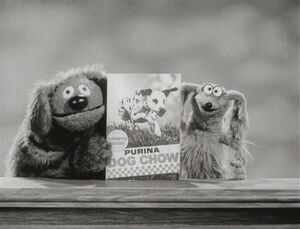 Rowlf the Dog and Baskerville the Hound were created for this series of Canadian Purina Dog Chow ads, which aired from 1962 to 1963. Seven spots were produced -- three 60-second ads, and four product IDs.
According to Jim Henson: The Biography, "Bernie Brillstein later recalled - though he was never certain if the offer came from Purina or another client - that Jim was offered $100,000 for the company to own Rowlf outright. Brillstein nearly lept at the offer, but Jim immediately squashed the deal. "Bernie", warned Jim, "never sell anything I own.""[1]
Four commercials were included as bonus features in The Muppet Show: Season Three DVD set.
Sources
↑ Brian Jay Jones, Jim Henson: The Biography, page 98.
Ad blocker interference detected!
Wikia is a free-to-use site that makes money from advertising. We have a modified experience for viewers using ad blockers

Wikia is not accessible if you've made further modifications. Remove the custom ad blocker rule(s) and the page will load as expected.