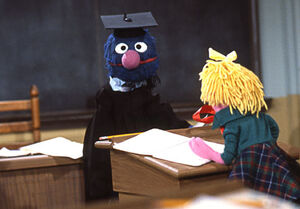 Grover has, at various times on Sesame Street and in books, donned the mortar cap and gown of Professor Grover, his lecturer alter-ego. In one such appearance, Grover explains how to take a bath, doing so while still wearing his scholar's cap. He has also done so for public appearances. On Feb. 8, 2005, Professor Grover visited Harvard University for a news conference announcing a new HGSE course, "Informal Learning for Children."
Professor Grover is the central character in the Sesame Subjects book series, in which he teaches Elmo about different subjects, and features in some other book appearances as well.
Appearances
Sketches

Picture
Theme / EKA
Description

Parts of the Body
Episode 0728
Professor Grover talks about parts of the body, with help from a reluctant Maria.

Breathe
Episode 1188
Grover teaches Luis, Mr. Hooper, and some children how to breathe.

Tub Tips
Episode 2398
Grover, in graduation cap, takes a bath and talks to the viewers about baths. He mentions everything except the water, when his Mommy comes in and turns on the water.

School
Episode 2410
Grover teaches his class about school. (Two of the classmates are named after Kevin Clash and Kathryn Mullen.)

Listening
Episode 2606
Professor Grover talks about the importance about listening... especially if the sound indicates some kind of danger.

Libro
Episode 3990
Grover presents libro as the Spanish Word of the Day.

Zapato
Episode 3989
Grover presents zapato as the Spanish Word of the Day.

Escuela
Episode 4053
Grover calls the kids into his courtyard classroom, to learn the Spanish word escuela. He says that the word means where they are now, a "fish bowl", to which kids reply "no!", and reply that it means "school". After class is dismissed, a yellow and orange fish swims up to Grover, asking if he was late for escuela. Grover shrugs, as the two look towards the camera, commenting "well, fish do swim in schools."

Niño y Niña
Episode 4059
Grover presents niño and niña as the Spanish Word of the Day.

Trees
Episode 4197
Professor Grover and Cameron Diaz explains the many things trees do, such as cleaning the air and giving off food.

Breathing
Monstruos Supersanos
Grover tries to teach Rosita about breathing.

Healthy Foods
Monstruos Supersanos
Grover gets help from Pilar about healthy foods.

Bones
Monstruos Supersanos
Grover gets help from a cow in teaching about the bones in your body.

Brushing Teeth
Monstruos Supersanos
Rosita makes sure Professor Grover has his facts straight when talking about brushing one's teeth.

Featured Appearances

Picture
Production
Description

Episode 4071
Grover conducts a class about being a superhero.

ABCs with Elmo
Grover gets help from Elmo in teaching a preschool class about the ABCs.

Counting with Elmo
Grover gets help from Elmo in teaching a preschool class about the 123s.

Making Friends
Grover gets help from Elmo in teaching a preschool class about making friends.
Book appearances
Professor Grover has, on occasion, tweeted from Sesame Street's Twitter account.
See also