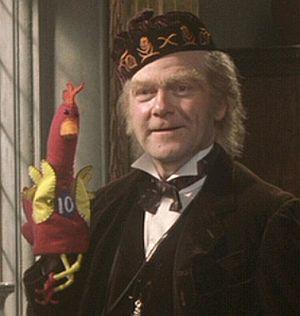 Professor Charles Chicken is a mathematical chicken, personified by a toy puppet, who appears in Five Children and It. Professor Chicken, M.A., B.S.c., E.G.G., from the University of Eggsford, is sent to Uncle Albert. The publishers of his forthcoming book, Difficult Sums for Children, propose a catchier title, Count to Ten with Charlie the Chicken.
Uncle Albert is outraged by the change, and shortly afterwards receives a visit from Professor Charles Chicken. The concept is that one free puppet will be included with each book. Though struggling to maintain the mathematical purity of the book, Uncle Albert finds melancholy amusement in the chicken doll. He feels that there's nothing going on behind the beak, though.
Ad blocker interference detected!
Wikia is a free-to-use site that makes money from advertising. We have a modified experience for viewers using ad blockers

Wikia is not accessible if you've made further modifications. Remove the custom ad blocker rule(s) and the page will load as expected.