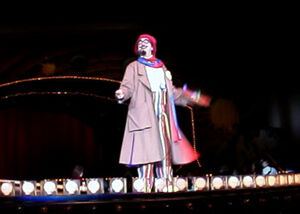 Professor Art and his helpers, the Palettes, appeared in the Sesame Street Live show, Elmo's Coloring Book. The Professor is a famous coloring book creator, and invites Elmo and his friends to his world famous studio. Once there, he introduces them to his latest invetion, The Guzzinta 2000, which allows the Sesame Street characters to transport their coloring book pictures to life. Thus, is the plot of the show.
Professor Art is the show's only "miked" performer, and is marked the second time VEE Corporation put a human character in their shows. The first time was 1-2-3 Imagine! in 1996.
Casting history
Ad blocker interference detected!
Wikia is a free-to-use site that makes money from advertising. We have a modified experience for viewers using ad blockers

Wikia is not accessible if you've made further modifications. Remove the custom ad blocker rule(s) and the page will load as expected.