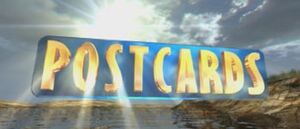 Postcards is a lifestyle program on Australian television.
Kevin Clash appeared, performing Elmo, on their 2006 Winter Special, which aired on August 5, 2006. In the episode, host Lawrence Mooney showed Elmo around the "AFL Experience", an interactive exhibit at the Australian Football League Hall of Fame.
External links
Ad blocker interference detected!
Wikia is a free-to-use site that makes money from advertising. We have a modified experience for viewers using ad blockers

Wikia is not accessible if you've made further modifications. Remove the custom ad blocker rule(s) and the page will load as expected.