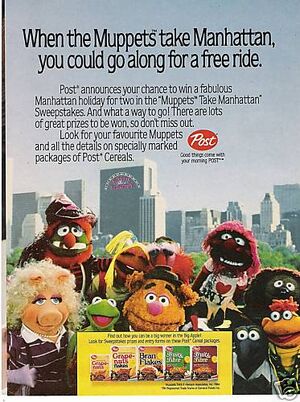 Post Foods was founded in 1895 by C.W. Post. Famed today for its roster of cereals, its first product was Postum, a roasted grain beverage sold as a coffee substitute, followed shortly by Grape-Nuts in 1897. Today its list of cereal brands include The Flintstones themed line of Pebbles cereal, Honey Bunches of Oats and Shredded Wheat.
In 1984, select Post cereals offered a chance to win a trip to New York City, among other prizes, as a tie-in promotion with The Muppets Take Manhattan.
In 1988, Post marketed Cröonchy Stars, the Swedish Chef's cereal. The cereal was marketed with three television commercials starring the Chef, and various promotional offers, including a Cröonchy Stars doll.
References
External links