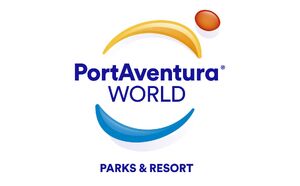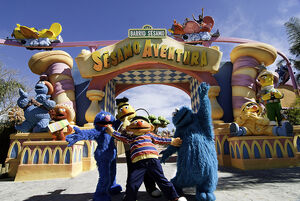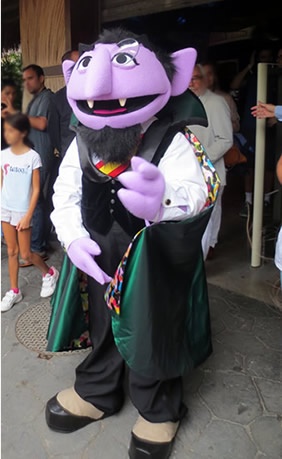 PortAventura is a theme park and resort in Salou, Spain, located in the province of Tarragona, Costa Daurada, and an hour drive south-west from Barcelona. The park first opened in 1995 originally as a joint venture between Alton Towers, Tussauds Group, Anheuser-Busch (Busch Entertainment Corporation) and Universal Studios. It is currently managed by Criteria CaixaCorp.
PortAventura consists of six themed zones, including a Sesame Street (or Barrio Sésamo) themed zone, SésamoAventura, which first opened on April 8, 2011. It is situated between China and Polynesia (both of which are also sections within the park).
SésamoAventura consists of rides and a play area, mostly geared towards young children. Walk-arounds of Bert (Blas), Ernie (Epi), Cookie Monster (Triki), Grover (Coco), Elmo, Zoe, Abby Cadabby, and The Count (Conde Draco) appear in live shows and roam throughout the park.
SésamoAventura has a surface area of 13,000 m2 and took 14 months of completion, with an investment of 15 million euros.[1] Claudio Mazzoli served as the artistic director of the project.
Rides and Attractions
CocoPiloto (Pilot Grover) – a monorail system where guests ride in colorful airplanes all over SésamoAventura.
Tami-Tami – a roller coaster.
Magic Fish – a water carousel with jet-ski cars.
El salto de Blas (Bert's Jump) – a free-fall drop tower
La granja de Elmo (Elmo's Farm) – A tractor ride exploring Elmo's farm, where many different animals live. The tractors also have a button to push for the horn.
Mariposas Saltarinas (Jumping Butterflies) – a spinning attraction where children ride flying bikes.
El árbol Mágico (The Magic Tree) – a large tree (standing at 12 meters high) situated at the center of SesamoAventura, where guests can get a view of the area from above.
SésamoAventura Station – a locomotive that takes visitors directly to SésamoAventura, which they can get to from either Mediterrània or Far West.
El Huerto Encantado (Enchanted Garden) – a play area.
Waikiki – a chain carosuel ride.
Loco-Loco Tiki – a ride that goes up and down in circles.
Shows
SésamoAventura
Ernie, Bert, Cookie Monster, Grover, Zoe and Elmo, with the help of Marina Arriola, try to unlock a treasure chest. This show uses the same plot as Abby Cadabby's Treasure Hunt.
Es hora de la aventura! (It's Time for Adventure!)
A musical stage show with the characters.
Sésamo On Tour
Parade with the characters.
¡Ya es Navidad en SésamoAventura! (It's Christmas in SésamoAventura!)
Christmas show (seasonal).
Vuela con SésamoAventura (Fly with SésamoAventura) Marina Arriola, as a flight attendant for Sésamo Airlines, takes the gang on a trip around the world, visiting Russia, Italy, London, and France.
Shops and Restaurants
La Cocina de Epi (Ernie's Kitchen) – a restaurant with three terraces covered by giant mushrooms as a sun shade.
ChikiTienda – gift shop that sells Sesame merchandise.
Gallery
Sources
External links