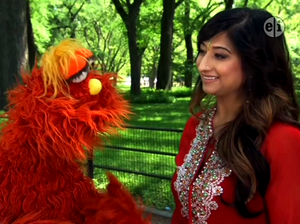 Pooja Narang is a Toronto-born, New York City-based choreographer, known best for her Bollywood choreography. She is currently the Artistic Director at the BAX Dance Company (Bollywood Axion).
Narang appeared in a 2013 episode of Sesame Street in Murray Monster's "People in Your Neighborhood" segment, demonstrating what a typical Bollywood dance is and having him perform in one.
She has instructed celebrities including Tyra Banks, Aishwarya Rai, Naomi Campbell, Uma Thurman, and Colin Firth.
Ad blocker interference detected!
Wikia is a free-to-use site that makes money from advertising. We have a modified experience for viewers using ad blockers

Wikia is not accessible if you've made further modifications. Remove the custom ad blocker rule(s) and the page will load as expected.