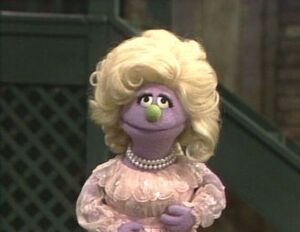 Polly Darton is a country-western singer from Sesame Street who appeared in inserts from Season 13 through Season 24. She's backed up by two dogs known as the Get Along Little Doggies.
Her songs include "Wavin' Goodbye to You with My Heart," "Just Say Howdy," "Waitin' at the Bus Stop Sign for You," and "It's Funny."
Darton is a parody of real-life country singer Dolly Parton. The character was the idea of Emily Perl Kingsley.[1]
Although usually performed by Fran Brill, in her song "14 Carrot Love", she was performed by Camille Bonora.
Sources
See also