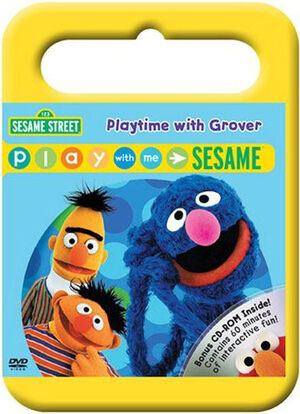 Produced by:
Release Date:
2007
Discs:
1 DVD
1 CD-ROM
Region:
1
Playtime with Grover is a 110-minute, R1 DVD of Play With Me Sesame. The DVD comes with a bonus CD-ROM with more than 40 minutes of interactive activities.
The title had previously been released in Region 4.
Segments
Super Grover Says
The cast instructs viewers to say "Sesame" when they say "play with me"
Waiter Grover: Spaghetti
Grover instructs the viewers to pretend to ride in an automobile, as "Let's Go Driving" plays
"four friends" with Elmo, Telly Monster, Zoe, and Grover
Kermit the Frog and Grover demonstrate "light" and "dark"
Ernie Says: Ernie has the viewer laugh like him, Grover has the viewer say "wubba wubba", Prairie Dawn has the viewer sing like her, and Bert has the viewer do the pigeon dance
Grover talks about sneezing
Grover delivers a pizza to Mr. Johnson's house
The cast instructs the viewers to say "Sesame" when they say "play with me", and Grover then instructs them to say "wubba"
Prairie dawn gives Grover 30 seconds to demonstrate the word "surprise"
"A Very Simple Dance" with Grover and Cookie Monster
Super Grover helps Elmo get an apple from an apple tree
The cast is quieter when they instruct the viewers to say "Sesame" when they say "play with me"
Prairie Dawn directs Grover in "Singin' in the Rain"
The cast pretends to be a choo-choo train
"Fur" with Zoe, Herry Monster, Elmo, and Grover
The cast decides to say "Sesame" when the viewers say "Play with me"
Flight attendant Grover helps Mr. Johnson get warm
"The Groverelli"
Cast
Grover, Ernie, Bert, Prairie Dawn, Ernestine, and Cookie Monster.
Grover, Mr. Johnson, Zoe, Elmo, Kermit the Frog, Herry Monster, and Telly Monster.
Performers
with
and
CD-ROM
The bonus CD-ROM features three sections of activities, featuring three games and four video clips each.
Greetings from Grover
Video: Grover plays guitar in the park
Game: Super Grover in "The Nick of Rhyme"
Video: "Go!" with Elmo and Super Grover
Game: "Dress Grover"
Video: Global Grover: Trinidad
Game: "Greetings from Grover"
Video: Grover and Rosita have 15 seconds to demonstrate the word "love"
Food-O-Rama
Video: "The First Time Me Eat Cookie"
Game: "Cooking with Rosita"
Video: Live action/ animated fim about strawberries
Game: "Oscar's Trash Collection"
Video: A song about the making of noodles
Game: "Cookie Check-Out"
Video: a cartoon about carrots
Let's Dance
Video: "The No-No-No!"
Game: "Zoe's Dance Moves"
Video: an african boy describes a day at his mom's dance class
Game: "Egg Counter Elmo"
Video: Zoe demonstrates "The Banana Dance" to Big Bird
Game: "Limbo Elmo"
Video: a girl dances with flowers, trees, and the sun
International releases
Ad blocker interference detected!
Wikia is a free-to-use site that makes money from advertising. We have a modified experience for viewers using ad blockers

Wikia is not accessible if you've made further modifications. Remove the custom ad blocker rule(s) and the page will load as expected.