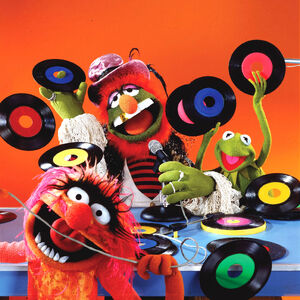 Rock Music (with the Muppets) was released by Playhouse Video in 1985, as part of a series of compilations featuring songs and sketches from The Muppet Show.
Muppet Show guest star appearances include Debbie Harry, Linda Ronstadt, Paul Simon, Loretta Swit, Leo Sayer, Alice Cooper, Helen Reddy and Ben Vereen.
Releases
Notes
On the walls of the recording studio has loads of photos of Muppet Show guest stars. The walls also have two photos of Muppet Performers: Frank Oz and Richard Hunt.
A number of clips begin with Dr. Teeth providing voice-over introductions.
Ad blocker interference detected!
Wikia is a free-to-use site that makes money from advertising. We have a modified experience for viewers using ad blockers

Wikia is not accessible if you've made further modifications. Remove the custom ad blocker rule(s) and the page will load as expected.