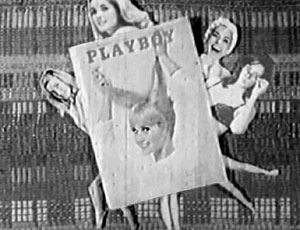 Playboy is a monthly magazine, founded in 1953 by Hugh Hefner and his associates and targeted at adult men. The magazine is published monthly and features photographs of nude women, along with various articles on fashion, sports, consumer goods, and public figures. It also has short fiction by top literary writers. Playboy's use of "tasteful" nude photos is often classified as "softcore" in contrast to the more "hardcore" pornographic magazines that started to appear in the 1970s in response to the success of Playboy's more explicit rival, Penthouse.
References
Kermit's mansion in The Muppets is decorated with various magazine covers. One of them is a doctored cover of the Fall 1982 issue of Playboy Fashion with Kermit and Raquel Welch. Although the cover has been manipulated for the movie, the two did once share the actual cover of Us magazine in 1978.
Connections
Several artists whose work has appeared in Muppet/Henson productions have also contributed to Playboy.
Models
Other magazine staff
Ad blocker interference detected!
Wikia is a free-to-use site that makes money from advertising. We have a modified experience for viewers using ad blockers

Wikia is not accessible if you've made further modifications. Remove the custom ad blocker rule(s) and the page will load as expected.