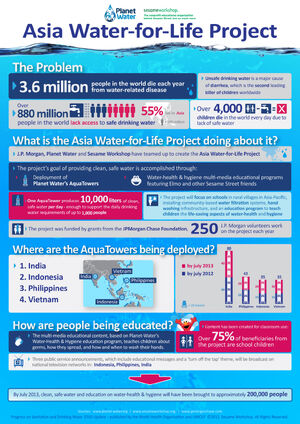 Planet Water is a U.S.-based, non-profit international development organization focused on bringing clean water to the world's most disadvantaged communities through the installation of community-based water filtration systems and education programs on health and hygiene.
On March 22, 2012, Sesame Workshop partnered with Planet Water to launch the Asia Water-for-Life project. Beginning in Indonesia and expanding into the Philippines, Vietnam and India over the next few months, this multimedia educational program, which includes a social media campaign and PSAs starring Elmo, teaches children about basic hygienic practices like hand washing and why failing to do so encourages the spread of germs. The Sesame Street Muppets played a critical role in ensuring young Asian children learn these important lessons.[1][2]
Sources
External links
Ad blocker interference detected!
Wikia is a free-to-use site that makes money from advertising. We have a modified experience for viewers using ad blockers

Wikia is not accessible if you've made further modifications. Remove the custom ad blocker rule(s) and the page will load as expected.