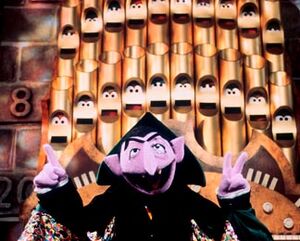 The Pipe Organ belongs to Count von Count on Sesame Street. After being a featured prop and significant part of the Count's castle for several years, the pipe organ became a character in Season 33, joining the Count in the "Number of the Day" segments, as each individual pipe would open its eyes and sing according to its number.
Among the performers of the pipes are Fran Brill, John Tartaglia, Stephanie D'Abruzzo, Martin P. Robinson, David Rudman, and Joey Mazzarino.
See also
Ad blocker interference detected!
Wikia is a free-to-use site that makes money from advertising. We have a modified experience for viewers using ad blockers

Wikia is not accessible if you've made further modifications. Remove the custom ad blocker rule(s) and the page will load as expected.