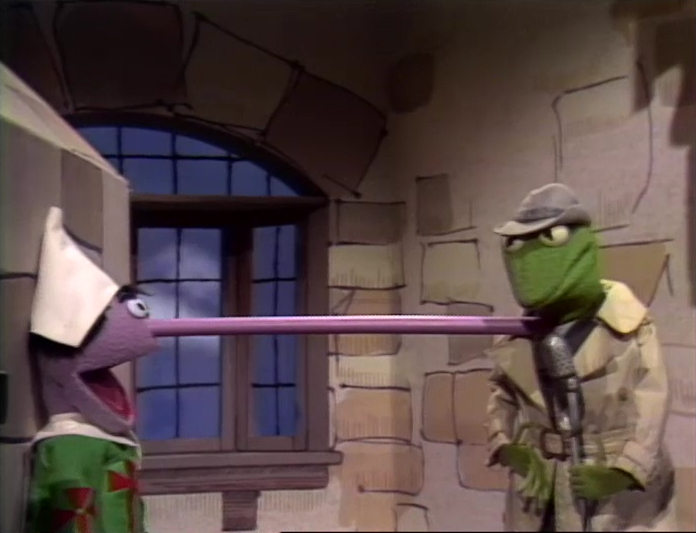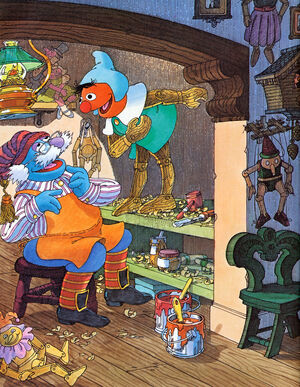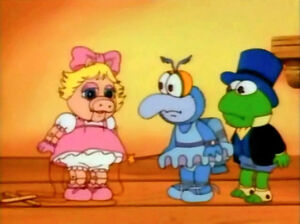 The Adventures of Pinocchio is a classic children's book by Italian author Carlo Collodi. Originally serialized, it was published as a novel in 1883.
The story is about a woodcarver named Geppetto and his marionette, Pinocchio, who magically comes to life. Geppetto becomes a father figure to the little wooden boy, but Pinocchio eventually leaves his home. Over the course of his adventures, he is reunited with Geppetto and eventually turned into a real boy by the Blue Fairy who brought him to life in the first place.
The Adventures of Pinocchio has been adapted many times, but the version that modern audiences are most familar with is Walt Disney's 1940 animated feature film Pinocchio.
Both the story and its title character have been adapted and referenced in several Muppet and Creature Shop productions.
Two songs from the Disney film were performed on the show:
Henson
Miscellaneous
In a segment of Abby's Flying Fairy School, Blögg tries to turn his marionette into a real boy, but accidentally turns himself into a puppet. To turn him back, he must go through "The Pinocchio Process", in which he must hop with a cricket, do the "Dance of Joy" with a donkey and swim with a whale.
In a Twitter posting on January 26, 2012, as part of the Ask Kermit promotion for the United Kingdom premiere of The Muppets, when asked if his favorite Disney movie was The Princess and the Frog, Kermit replied, "Pinnocchio because I love when Jiminy Cricket sings "When You Wish Upon a Star"." [2]
Connections
Paul Reubens played Pinocchio in the "Faerie Tale Theatre" episode.
Sources
↑ "Guillermo del Toro plots Pinocchio", Dave McNary, Variety. November 14, 2008.