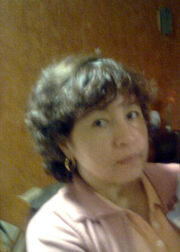 Pilar Escandon
is a voice actress that dubs
Zoe
for Mexico's
Plaza Sésamo
.
Actresses and roles that Escandon has dubbed include Uma Thurman (in Hysterical Blindness, Payback), Kristen Wilson (in Dr. Dolittle and its sequel), Alicia Silverstone (in Batman & Robin), Angelina Jolie, Sharon Stone, Laura Dern, Vanessa Williams, Andie MacDowell, Bonnie Hunt, Fiona Shaw (in [[Harry Potter|Harry Potter and the Prisoner of Azkaban), and Debra Messing.
On Sex and the City, she dubbed Sarah Jessica Parker, Dana Scully in The X-Files, and Tanya Sloane on various Power Rangers series. Animation dubbing include Francine on Arthur and Dot on ReBoot.
See also
Ad blocker interference detected!
Wikia is a free-to-use site that makes money from advertising. We have a modified experience for viewers using ad blockers

Wikia is not accessible if you've made further modifications. Remove the custom ad blocker rule(s) and the page will load as expected.