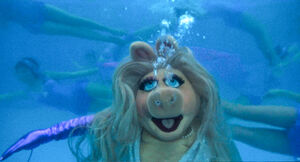 "Piggy's Fantasy" was sung by Nicky Holiday, with a dubbed singing voice, in The Great Muppet Caper. As its title suggests, the song takes place during a daydream Miss Piggy has while modeling a swimsuit; she imagines herself performing in a water ballet, while Nicky, through a juxtaposed "bubble" shot, sings her praises (joined by Kermit for the finale).
The song was later used in The Muppets Take the Bowl in 2017 and The Muppets Take the Bowl in 2018, where Bobby Moynihan sings (being dubbed by Peter Linz) as Piggy makes a grand entrance to the stage.
Production notes
The Muppet Show Fan Club newsletter had this description of the filming of the scene:
"Miss Piggy's underwater musical number was the most difficult scene to shoot, mostly because of communication problems. Lights, cameramen, cameras, speakers, monitors and Miss Piggy were all underwater. There were also 18 professional swimmers who had to dive into the pool at the right moment. We tried to get a dolphin to direct this part, but only one goldfish answered the ad.
So, the heat was on -- literally. We kept the water at 90 degrees Fahrenheit which made the air temperature a moist 95 degrees. The conditions were tropical! We then tried to get a director who also happened to be a monkey or a crocodile. One monkey applied, but he didn't like our terms (3 bananas/hour), and the crocodile ate his agent on the way to the studio."[1]
Frank Oz commented on the scene in an interview for Dynamite magazine:
"The water ballet scene with Miss Piggy was really wonderful. I was under the water for a week. I had three days of scuba training and then down I went. Having them swim for the first time really was exciting!"[2]
Sources
↑

The Muppet Show Fan Club Newsletter, volume 3, issue 2 (1981)