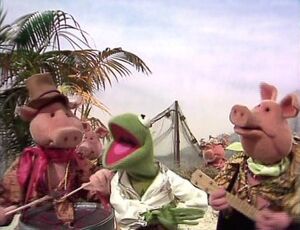 "Pig Calypso" is one of only a few original songs written specifically for The Muppet Show. The number is performed by Miss Piggy, Kermit, and the pigs (including Annie Sue) as the opening number on episode 221.
In a tropical setting, Miss Piggy and the pigs sing about her romance with Kermit. The pigs then encourage Kermit to tell his side of the story. He responds by claiming that there is no relationship between the two, and that "Bib and napkin, knife and fork is the only way that I'll touch pork!" The number ends as Miss Piggy karate chops the frog.
One of the pigs plays a portion of this song on the steel drums backstage in episode 216.
Releases
Audio
Video
Ad blocker interference detected!
Wikia is a free-to-use site that makes money from advertising. We have a modified experience for viewers using ad blockers

Wikia is not accessible if you've made further modifications. Remove the custom ad blocker rule(s) and the page will load as expected.