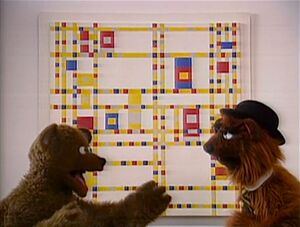 Pieter Cornelis "Piet" Mondriaan (1872-1944) was a Dutch painter. A part of the De Stijl art movement, and evolved what became known as Neo-Plasticism, a white ground upon which was painted a gird of black lines and the three primary colors.
In episode 3682 of Sesame Street, Baby Bear and Papa Bear visit the Museum of Modern Art, and observe a Mondrian's painting "Broadway Boogie Woogie", which is full of rectangles, squares and colors that remind Baby Bear of the rectangles and squares that are all around us.
The coloring book Museum of Monster Art featured a spoof on a Mondrian painting, with Grover observing Tableau No. IV; Lozenge Composition with Red, Gray, Blue, Yellow, and Black.