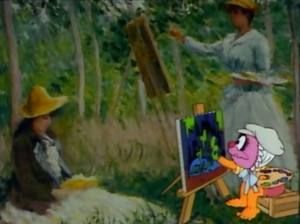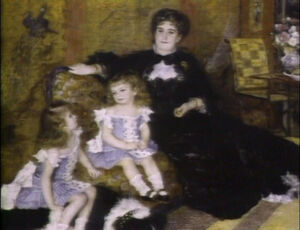 Pierre-Auguste Renoir (1841 - 1919) was a French artist of the Impressionist style.
Some of his more recognizable paintings include Two Sisters (On the Terrace), The Blue Lady, Girls at the Piano, Dance at Bougival, and Luncheon of the Boating Party.
References
Baby Animal plays Pierre-Animal Renoir in the Muppet Babies episode "The Muppet Museum of Art", but his backdrop is actually In the Woods at Giverny: Blanche Hoschedé at Her Easel with Suzanne Hoschedé Reading by Claude Monet. Piggy leaves the scene walking in front of Renoir's Grape Pickers at Lunch.
An animated Sesame Street segment, features two children admiring the Renoir piece Boating on the Seine.