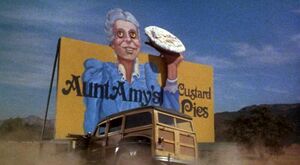 A pie is a baked food typically composed of a pastry shell that can be filled with fruit, custard, cream, meat, or other ingredients. It is often covered with a pastry crust when consisting of fruit filling, though pies made of pumpkin or custard are more typically topped simply with whipped cream.
Pie in Humor
The "pie in the face" gag has been around since the days of Vaudeville. The Keystone Kops were credited with bringing it to the big screen. The "art" of the pie fight was later amplified in 1927 with Laurel and Hardy's short film The Battle of the Century. Monty Python, Charlie Chaplin, Bugs Bunny, The Three Stooges, Dick Van Dyke, Carl Reiner, and Mel Brooks have all used pie gags in their productions. The Muppets have used and adapted this joke on numerous occasions. Pies used on The Muppet Show for such gags are made from Crazy Foam, a children's bath product far easier to clean off of a puppet's fur and fleece than custard or fruit.[1]
Other Uses in Comedy
General References
Sesame Street
Misc Muppet References
Merchandise
Honorary Mentions
Sources
Ad blocker interference detected!
Wikia is a free-to-use site that makes money from advertising. We have a modified experience for viewers using ad blockers

Wikia is not accessible if you've made further modifications. Remove the custom ad blocker rule(s) and the page will load as expected.