Written by
Joe Raposo
Date
1970
Publisher
Green Fox Music Inc.
Jonico Music Inc.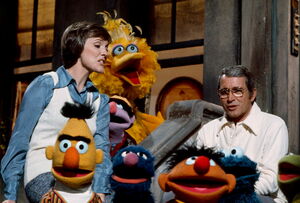 Template:Firstbox "Picture a World" is a Sesame Street song sung by Bob, and also by Gordon and Susan. It describes a world with clean water, beautiful natural surroundings, and happy children and asks the listener to "Picture a world... and try to think of a way to make it that way." Julie Andrews, Perry Como and the Muppets sang "Picture a World" in the 1973 special Julie on Sesame Street.
A slightly re-written version was performed by Papa Bear, Zoe, Elmo and Baby Bear in the 2008 video Love the Earth!
Diana Ross also performed the song.[citation needed]
Releases
Audio (Gordon and Susan's version)
Publications