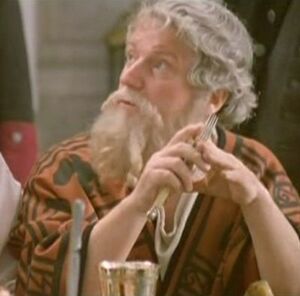 Phillip McGough is a British actor who played Plato in the Creature Shop film Gulliver's Travels.
Working in television since the 1970s, McGough was a regular on the soap opera Doctors in 2010 as Dr. Charlie Bradfield and recurred on Bad Girls (2000-2005) as Dr. Nicholson and the sitcom Fresh Fields (1991) as Monsieur Flax for the third series. Guest credits include Doctor Who, The Bill, Keen Eddie, Jonathan Creek, Minder, the Sharpe series (with Sean Bean), and Only Fools and Horses.
In film, McGough appeared in the 1998 Les Misérables (as a judge), The Illusionist, The Emperor's New Clothes (with Ian Holm), The Fool (with Derek Jacobi), and M. Butterfly (with Jeremy Irons).
External links
Ad blocker interference detected!
Wikia is a free-to-use site that makes money from advertising. We have a modified experience for viewers using ad blockers

Wikia is not accessible if you've made further modifications. Remove the custom ad blocker rule(s) and the page will load as expected.