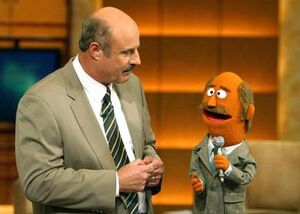 Phil McGraw, aka Dr. Phil (b. 1950) is a popular TV host who offers advice on relationship problems. His appearances on The Oprah Winfrey Show in 1998 first brought him to public attention, and he launched his own syndicated talk show, Dr. Phil, in 2002.
A spoof character, Dr. Feel, appeared on Sesame Street in Season 35. Dr. Feel, Elmo and Big Bird appeared on Dr. Phil's show on to promote the season premiere; McGraw reciprocated, appearing on Sesame Street with Dr. Feel and in the celebrity version of "Dance Myself to Sleep."
In December 2008, Kermit the Frog appeared on McGraw's show to discuss his relationship with Miss Piggy.
External links
Ad blocker interference detected!
Wikia is a free-to-use site that makes money from advertising. We have a modified experience for viewers using ad blockers

Wikia is not accessible if you've made further modifications. Remove the custom ad blocker rule(s) and the page will load as expected.