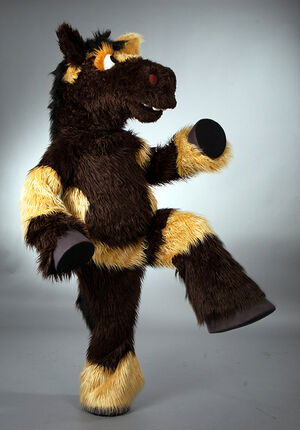 Pferd is a horse character from Sesamstrasse, the German co-production of Sesame Street. He was added to the cast in 2000 as a "comedy character".
Pferd is a dimwitted black-and-white-spotted horse. He has a big appetite for carrots, but eats almost anything. His best friend is Wolle the sheep. Together, they're the comic duo on Sesamstrasse.
Pferd is performed by Carsten Morar-Haffke. He and Martin Paas (Wolle's performer) are also the writers of the Pferd & Wolle scenes, and they wrote the 30th Anniversary special.
The channel "Das Erste" ran a profile on Pferd during the programming block "Check Eins", were he answered some questions. His favorite stars include Black Beauty, Flipper, Skippy the Bush Kangaroo, Lassie and Charlie. His hobbies includes eating, eating and eating. His best experience was when he discovered the perfect carrot; it was very juicy, very orange, and it was delicious. Favorite animals include Shetland ponies, Münsterländers, Haflinger, Arabian horses, black and white horses and sheep. To the question about what his most embarrassing moment was, he replied that he can't recall doing anything that was embarrassing; afterwards he walks into the camera. His dream job would be a Nobel Prize award winner, however he is unsure about what such a person actually does.
Trivia
The German word "Pferd" means "horse".
Ad blocker interference detected!
Wikia is a free-to-use site that makes money from advertising. We have a modified experience for viewers using ad blockers

Wikia is not accessible if you've made further modifications. Remove the custom ad blocker rule(s) and the page will load as expected.