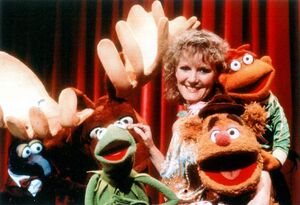 Petula Clark (b. 1932) is a British pop singer and actress. She was the guest star in episode 220 of The Muppet Show.
She gained notoriety in the 1960s with pop hits on the Billboard chart, including the #1 hits "Downtown" and "My Love". Her other hits included "Don't Sleep in the Subway," "Sign of the Times" and "Kiss Me Goodbye."
She was designated a Commander of the British Empire (CBE) in 1998.
She continues to perform regularly.
Ad blocker interference detected!
Wikia is a free-to-use site that makes money from advertising. We have a modified experience for viewers using ad blockers

Wikia is not accessible if you've made further modifications. Remove the custom ad blocker rule(s) and the page will load as expected.