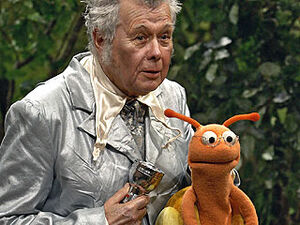 Peter Weck (b. 1933) is an Austrian film actor and stage director with a career spanning five decades. In 2006, he guest starred on Sesamstrasse, in episode 2356, as the Man in the Moon, who befriends Finchen.
Trained as a singer by the Vienna Boy's Choir, Weck made his stage debut as an adult in 1953. He soon entered films, with dozens of German movies to his credit. In the early 1960s, he made his only forays into English-language films, as Vienna Boy's Choir director Max in the Disney comedy Almost Angels (1962) and as a Viennese Jew in Otto Preminger's prestige drama The Cardinal (1963). In 1982, Weck staged the first German-language performance of the musical Cats.
External links
Ad blocker interference detected!
Wikia is a free-to-use site that makes money from advertising. We have a modified experience for viewers using ad blockers

Wikia is not accessible if you've made further modifications. Remove the custom ad blocker rule(s) and the page will load as expected.