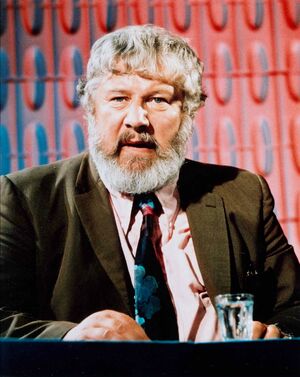 Sir Peter Ustinov (1921 – 2004) was a British actor, author and raconteur. He guest starred on The Muppet Show in episode 112. According to the Muppet Morsels on The Muppet Show: Season One, Ustinov enjoyed his guest appearance so much that he was invited back for a cameo in the movie The Great Muppet Caper as a truck driver.
In 1999, Ustinov played the part of the Walrus in the Creature Shop-effects film, Alice in Wonderland and voiced Old Major in Animal Farm. The multilingual Ustinov often dubbed his own voice into other languages, and re-dubbed his Alice in Wonderland dialogue into German.
He won two Academy Awards for Best Supporting Actor, for his roles in Spartacus (1960) and Topkapi (1964), and was knighted by Queen Elizabeth II in 1990.
External links
Ad blocker interference detected!
Wikia is a free-to-use site that makes money from advertising. We have a modified experience for viewers using ad blockers

Wikia is not accessible if you've made further modifications. Remove the custom ad blocker rule(s) and the page will load as expected.