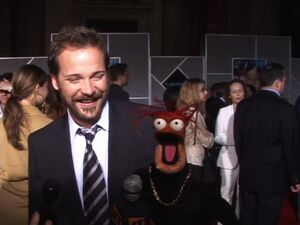 Peter Sarsgaard (b. 1971) is an American film and stage actor. Making his debut in the Susan Sarandon film Dead Man Walking, he's gone on to appear in films such as The Man in the Iron Mask and Jarhead (with Jake Gyllenhaal).
He was interviewed by Pepe for Episode 8 of Statler and Waldorf: From the Balcony for the premiere of his film Flightplan.
External links
Ad blocker interference detected!
Wikia is a free-to-use site that makes money from advertising. We have a modified experience for viewers using ad blockers

Wikia is not accessible if you've made further modifications. Remove the custom ad blocker rule(s) and the page will load as expected.