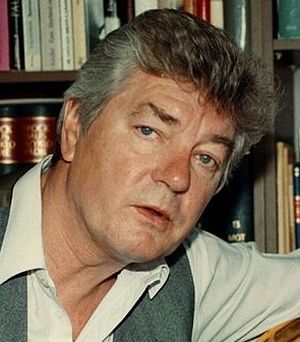 Peter Musäus (b. 1939) is a German voice actor who has dubbed various characters in Muppet projects, most recently the Swedish Chef and Angel Marie in Muppets Der Zauberer von Oz (Muppets' Wizard of Oz).
Musäus dubbed George Wendt on Cheers, Paul Dooley in Waiting for Guffman, Tim Barker and other guest actors on Doctor Who, and an assortment of police officers, reporters, and similar bit parts in films. He has worked most often in cartoons, dubbing Carl, Cletus, Professor Frink, and others on The Simpsons, as well as Cleveland on Family Guy, Eustace on Courage the Cowardly Dog, Mr. Gruber on The Adventures of Paddington Bear, Dr. Mindbender on G. I. Joe, and various robots (good and bad) on Transformers.
On camera, Musäus appeared in the 1983 TV movie Martin Luther (with Michael Habeck) and in three episodes of Tatort. Video games include Lost Horizon (as a monk in the original German version) and the TellTale Sam & Max series.
Muppet dub credits
External links