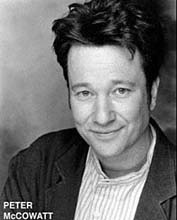 Peter McCowatt is a Canadian comedian, puppeteer, and author who served as a background puppeteer on Follow That Bird. His other puppetry credits include the regular role of Phillippe on the cable series Lost on Earth.
McCowatt is also the author of the fictional Elvis Presley novel Shakin' E, published in Canada under the pseudonym "Peter T. Cow." On radio, he created and starred in the CBC comedy series The Norm.
External links
Ad blocker interference detected!
Wikia is a free-to-use site that makes money from advertising. We have a modified experience for viewers using ad blockers

Wikia is not accessible if you've made further modifications. Remove the custom ad blocker rule(s) and the page will load as expected.