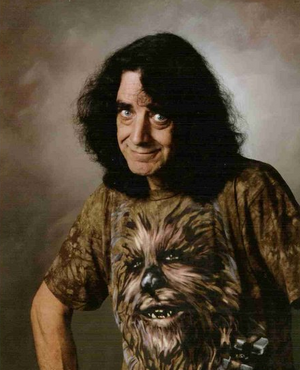 Peter Mayhew (b. 1944) is a British actor, best known for playing the Wookiee Chewbacca in the Star Wars franchise. Mayhew wore the suit for the character in the Star Wars films, and in a guest appearance on The Muppet Show episode 417.
In his appearance with the Muppets, Mayhew was required to dance as Chewbacca during the closing number. Mayhew dubbed the dance the "Wookie Waltz."[1]
In a 2013 Reddit AMA, Mayhew commented:
"

I proved that Chewie does indeed have two left feet but I really really loved working with Jim Henson and the Muppets. Jim and Frank Oz always gave directing instructions in their characters of Kermit and Miss Piggy. I was so enthralled with the process that at one point I thought I had missed my calling and wanted to try to be a puppeteer.[2]

"
Sources
↑ Star Wars Insider #55, p.55
↑ Reddit.com, I am Peter Mayhew, Chewbacca from the Star Wars Saga, ask me anything September 2, 2013
External Links
Ad blocker interference detected!
Wikia is a free-to-use site that makes money from advertising. We have a modified experience for viewers using ad blockers

Wikia is not accessible if you've made further modifications. Remove the custom ad blocker rule(s) and the page will load as expected.