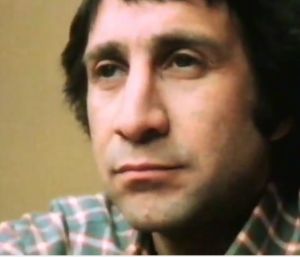 Peter Bauer is a German actor who appeared on Sesamstrasse in several recurring film inserts from the 1970s through the 1980s. His first character was a silent tramp, introduced in 1973, whose curiosity and wanderings were often used to illustrate opposites or directional concepts. The tramp later made a guest appearance on the street itself in 1982 (where he befriended Samson).
Bauer went on to play the overall-clad Hans Heinrich, who struggled with different tasks, and Herr K., who usually had slapstick adventures with friend and neighbor Doctor Blau. In song segments, Bauer played many roles (sometimes including his recurring characters), with the singing normally dubbed by Christoph Busse (who wrote and directed all of the aforementioned inserts).
Outside of Sesamstrasse, Bauer founded the Frankfurt children's theater group Theaters Grüne Sosse in 1982. Film credits include the 1969 TV movie The Revolt, the 1970 vampire film Jonathan, and Der Rote Stumpf (The Red Stocking) with Inge Meysel. He appeared in a 2002 episode of the crime series Ein Fall für zwei as a taxi driver.
Character gallery
External links
Ad blocker interference detected!
Wikia is a free-to-use site that makes money from advertising. We have a modified experience for viewers using ad blockers

Wikia is not accessible if you've made further modifications. Remove the custom ad blocker rule(s) and the page will load as expected.