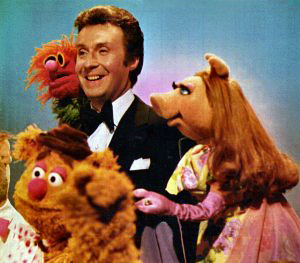 Peter Alexander (born Peter Alexander Ferdinand Maximilian Neumayer, 1926 - 2011) was an Austrian singer and actor who became popular in the 1950s and 60s with numerous roles in German musical films.
Alexander was considered one of the great entertainers in Germany. For many years, he hosted various television variety shows, including Peter Alexander präsentiert Spezialitäten, a show that featured special guest appearances by several characters of Sesame Street in 1975, and The Muppet Show in 1977, taped at the original locations of both shows.
External links
Ad blocker interference detected!
Wikia is a free-to-use site that makes money from advertising. We have a modified experience for viewers using ad blockers

Wikia is not accessible if you've made further modifications. Remove the custom ad blocker rule(s) and the page will load as expected.