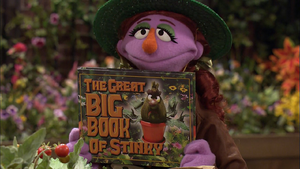 Pete Ortiz has been a graphic artist on Sesame Street since season 22. He was not included into the credit scroll till season 25.(which was customary during those years). Along with Mike Pantuso, he designs the logos, decals, movie posters, magazines, scripted storybooks, and product packaging for the series, props (i.e. Cinderelmo's Castle, Trash Gordon Space ship,Grump Tower, as well as the worm circus arena), including drawing crayon pictures created by Elmo and others like Big Bird and Snuffy.. He also designed and animated characters for the "Elmo's question" portion of Elmo's World. Both animated and actual fish bowl props. Pete did voice over work for the animated "Madlenka" as the Hispanic shop owner. He also animated "Finger Painting Counting to 17 and 19, which was used in the international market. Pete also worked with the International Partners providing specific graphics for there region. One showcase for his work came in the Numeric Con street story, designing the logo for the con banners (based on the actual Comic-Con logo), and for all of the superhero characters (Fiverine, The Fantabulous Four, and Sevengers).
Ortiz has also worked on various college theatres and off Broadway productions as well as Blue's Room, Between the Lions Johnny and the Sprites, Whoopi's Littleburg, and Where in the World Is Carmen Sandiego. Currently in the Pacific developing kid books and kid friendly museum
External links
Ad blocker interference detected!
Wikia is a free-to-use site that makes money from advertising. We have a modified experience for viewers using ad blockers

Wikia is not accessible if you've made further modifications. Remove the custom ad blocker rule(s) and the page will load as expected.