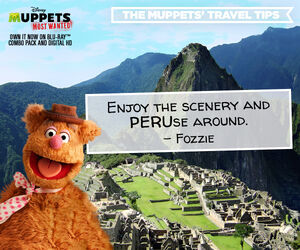 Peru is a South American country. The capital city is Lima, which also became the name of a local bean (found in other Mesoamerican contries but named because they were often shipped from Lima during the Spanish colonial period). Portions of the Amazon Basin are found in Peru, and pre-colonization, the country was the center of the Incan civilization. Native fauna include the Humboldt penguin (also found in Chile).The darkest regions are purportedly home to marmalade loving bears.
Appearances
References
Ad blocker interference detected!
Wikia is a free-to-use site that makes money from advertising. We have a modified experience for viewers using ad blockers

Wikia is not accessible if you've made further modifications. Remove the custom ad blocker rule(s) and the page will load as expected.