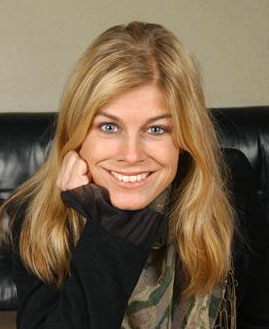 Pernilla Wahlgren (b. 1967) is a Swedish singer and actress who voiced Raisin in Leksakernas Hemliga Liv, the Swedish dub of The Secret Life of Toys. She also voiced Betty O'Shale in The Flintstones in Viva Rock Vegas.
Wahlgren made her theater debut at the age of 9 in the musical Annie; other theater credits include The Sound of Music, Pippi Longstocking, Grease, and The Wizard of Oz. In films, she appeared in Ingmar Bergman's Fanny and Alexander (1982), at the age of 15.
In 1984, she released her first single Nu Har Det Tänt. From 1985-1995 she released 6 albums. Her latest album is Beautiful Day from 2006. Some of her voice credits include Wallace & Gromit: The Curse of the Were-Rabbit (as Lady Tottington), Stuart Little 2 (Margalo), and The Rugrats Movie (Dil).
External links