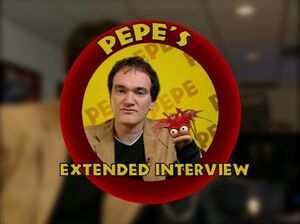 Pepe's Extended Interview with Quentin Tarantino is a featurette included on the DVD release of The Muppets' Wizard of Oz. Pepe the King Prawn talks with director (and Muppets' Wizard of Oz cameo actor) Quentin Tarantino about his work in the movie and his career. Tarantino talks about his love of the Muppets and directing. The two joke around and converse, about film making, the movie, and casting Muppets in some of Tarantino's films. The six-minute interview also included exclusive behind the scenes photos and footage, along with parody photos placing Muppets in roles in classic Tarantino films.

Gallery
See also
Ad blocker interference detected!
Wikia is a free-to-use site that makes money from advertising. We have a modified experience for viewers using ad blockers

Wikia is not accessible if you've made further modifications. Remove the custom ad blocker rule(s) and the page will load as expected.