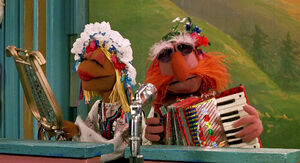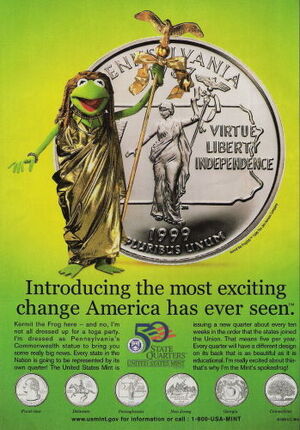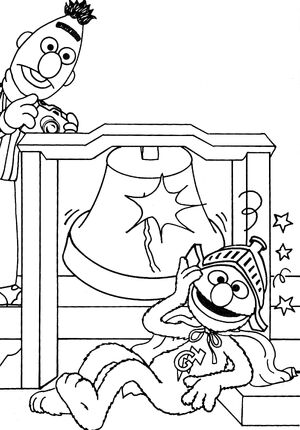 Pennsylvania is the second state of the United States of America.
In The Muppet Show episode 108, guest star Paul Williams appears in a sketch playing a travel agent. Beautiful Day Monster is his customer, trying to buy a ticket to Pittsburgh. No matter what Williams suggests, the monster's reply is, "Got anything cheaper?" Finally, Williams crushes the monster flat, and sends him air mail.
The Second Continental Congress was also depicted by the Muppets in the 1982 special I Love Liberty.
In a 1999 magazine advertisement, Kermit the Frog appears dressed as Pennsylvania's Commonwealth statue to promote the U.S. Mint's issuance of commemorative state quarters.
Sources
↑ "Grover, City Work Together to Confuse Tourists", Philadelphia Will Do. March 5, 2007.
Ad blocker interference detected!
Wikia is a free-to-use site that makes money from advertising. We have a modified experience for viewers using ad blockers

Wikia is not accessible if you've made further modifications. Remove the custom ad blocker rule(s) and the page will load as expected.