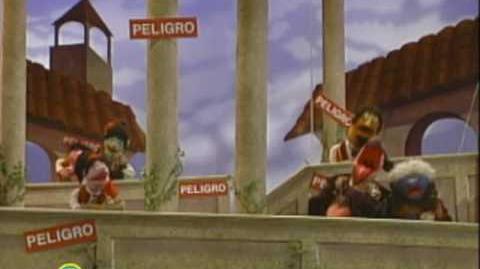 "Peligro" is an opera starring Placido Flamingo, demonstrating the Spanish word for "Danger." In it, Placido plays a preacher-like advocate who warns his fellow villagers to watch out for peligro. In the process, he ends up destroying the set.
Phil Harmonic introduces the number which is performed at the Nestropolitan Opera House. At the end, he tells the audience that Placido, in addition to being the greatest opera star, is the most dangerous one as well, and that the rest of the opera will have to be postponed for several weeks thanks to the set damage.
The song is a parody of "That's Amore".
Releases
Online
Ad blocker interference detected!
Wikia is a free-to-use site that makes money from advertising. We have a modified experience for viewers using ad blockers

Wikia is not accessible if you've made further modifications. Remove the custom ad blocker rule(s) and the page will load as expected.