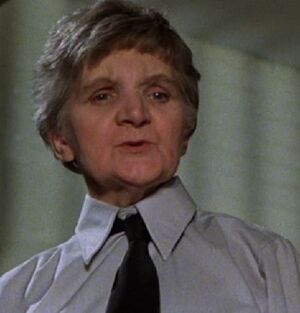 Peggy Aitchison (1921-1990) was a British actress who played the prison guard in The Great Muppet Caper.
Aitchison was a familiar face on British television from around 1963 onward, as assorted landladies, neighbors, and cooks. She performed in one-shot adaptations from George Orwell, Charlotte Bronte, Henry James, and Henrik Ibsen. On the soap opera Crossroads, she played the grousing Mrs. Blundell from the first episode in 1964 through 1970. She was a regular on the sitcoms Robin's Nest (1978-1981, as Gertrude) and Ffizz (1987-1989, with Richard Griffiths).
Film credits include Lola (1970, with Honor Blackman and Robert Morley), A Prayer for the Dying (1987, with Liam Neeson), and A Handful of Dust (1988, with James Wilby and Kristin Scott Thomas).
External links
Ad blocker interference detected!
Wikia is a free-to-use site that makes money from advertising. We have a modified experience for viewers using ad blockers

Wikia is not accessible if you've made further modifications. Remove the custom ad blocker rule(s) and the page will load as expected.