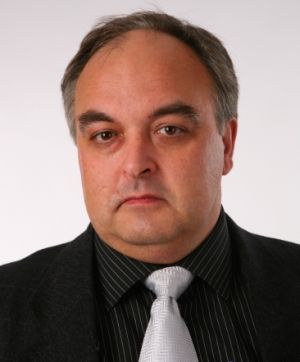 Paweł Szczesny (b. 1963) is a Polish voice actor known for his gruff voice who dubbed K. Edgar Singer in Muppety z Kosmosu (Muppets from Space). He went on to dub Bobo in Muppety (The Muppets), Muppety: Poza prawem (Muppets Most Wanted), and the dub of the 2015 TV series. Scezesny also worked on Świat Elmo (Elmo's World), announcing the spoken dubbing credits and voicing minor characters, and dubbed Smoke in Cartoon All-Stars to the Rescue.
Szczesny has been active in Polish dubbing since the 1980s, as Bluto in Popeye cartoons, Schaeffer on The Raccoons, Hair Bear on Help! It's the Hair Bear Bunch, Hades in Hercules, Hopper in A Bug's Life, Patrick on SpongeBob SquarePants, Magneto on X-Men, Hammerhead and Iron Man on Spider-Man, Aquaman and others on Justice League and Young Justice, and Harvey Bullock on Batman: The Animated Series.
In live-action film, Szczesny dubbed Cheech Marin in Spy Kids, Billy Connolly in The Hobbit: The Battle of the Five Armies, Richard Moll in No Dessert Dad, 'Til You Mow the Lawn, Jeffrey Tambor in How the Grinch Stole Christmas, Stephen Fry in Stormbreaker, and multiple bit parts in Around the World in 80 Days, The Avengers, and others. In various Power Rangers incarnations, he dubbed Commander Cruger, Bulk, Zordon, assorted monsters, and others.
External links